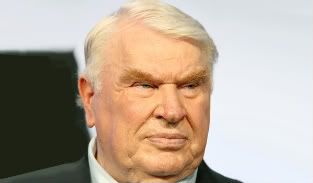 I'm sure most of you already know by now that The John Madden retired yesterday, April 16th 2009. Yes, a very sad day for us football lovers. I felt a tribute post was needed.
Retirement is a lot better than what I first thought happened. As soon as I woke yesterday, I turned on the TV with protein shake in hand, and noticed The John Madden on the screen. My eyes immediately fixated to ESPN's bottom line and I read "John Madden, 73..." right then I went into slight shock thinking he died. I don't ever give a shit when a celeb dies or anything like that but when I thought The John Madden took a permanent L I actually said out loud "what?" as if The John Madden was immortal. Anyway, I read further on the bottomline and came across the word "retires". Still sad by the news but grateful that one of the football Gods remain alive.
Eventhough a lot of people will remember The John Madden for his football video games, I'll always remember him for being the voice and face of football. When I was a boy and first fell in love with the sport (and the Dallas Cowboys) it was The John Madden and Pat Summerall doing the Cowboys-49ers rivalary games. More recently it has been The Madden and Al Michaels commenting the best football on TV. So this is a big loss in every football lovers world right now. Hopefully he pulls a Brett Favre and comes back so we're not stuck with Chris Collinsworth's annoying ass. If not then... Thanks be to The John Madden, one of the two greatest contributors to the sport (the other being The Jerry Jones).